Track and Field
Here is the story of my track and field days. I have been doing this sport for a very long time and I would have to say that it will always be a part of my life. I first started at the age of 10 when my father decided that it was time to do something athletic. I will always thank him for that introduction into one of the best sports in the world. I was a part of track clubs in Colorado before I went to high school in Wyoming. I won the Wyoming State Championship in discus all four years (94, 95, 96, and 97). I also hold the 3A state record for Wyoming (at least for now).
Throughout my 12 years of doing track and field, I went to numerous Jr. National Track and Field meets. With the exception of the first national meet I went to, I was ranked either 1st, 2nd, or 3rd. These trips to nationals let me see a lot of the United States and gave college recruiters a chance to see my skills. Senior year of high school I had many colleges call. I went on four perspective college trips: Harvard, Vanderbilt, Stanford, and Norte Dame. Vanderbilt University won me.
I competed for Vanderbilt for 4 years. I hold the school record for discus and during my senior year, I was captain of the Varsity team. My last season did not turn out quite the way I wanted, but I still enjoyed every minute.
Meeting my long-time role model, John Godina, was a high point of my senior year. (Hopefully I can get that pic scanned soon)
My goal is to continue doing track and field, maybe coaching and/or competing.
The world awaits.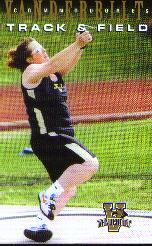 This is me throwing the hammer
Back to Main Page